Receive Effective Walthamstow E17 Gutter Cleaning to Prevent Water Damage
When your gutters and drains are starting to work less effectively – perhaps you've noticed water spilling over the sides, or a blockage of leaves – then it's time to get some professional help! Get the best gutter cleaning Walthamstow E17 team in to assist you! We can completely do away with all blockages in drainage systems, allowing for the free and uninterrupted flow of water throughout your property! Whether you have a large house, or a tiny apartment on the thirtieth floor of an office block, we ready to lend a hand!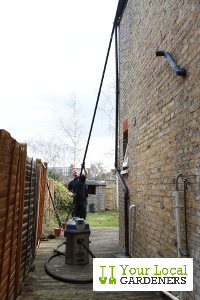 Using only top of the range cleaning technology,the professional gutter cleaners Walthamstow E17 achieve amazing results every time. We've hand-picked the staff here from amongst the most experienced and highly qualified specialists in the area, so our every service is delivered with the utmost care and effectiveness. Take a look at the testimonials we've received, over on our reviews page, to see what our past clients have had to say about us, and the excellent services we've provided them with.
We're the Most Effective Gutter Cleaning Company Walthamstow E17
That's because we use only the best equipment on the market and all of all the hand-picked staff are the best at what they do! We also like to provide this highly effective service for an affordable rate which makes the skills of the team even more apparent! When you choose our service for gutter cleaning Walthamstow E17 you'll be able to take advantage of this winning combination, and you'll also gain access to some nifty extras, like our:
Evening and weekend time slots:

make your booking outside of normal business hours, or to avoid the demands of your hectic schedule, and we'll never charge you any more than we would for a standard appointment!

Fully trained staff:

your peace of mind will be total – all of the staff here are completely insured

Special offers on multiple bookings:

for ongoing services and multiple service bookings, we offer a significant discount! Ask our friendly team about the benefits of using our path, driveway and garden clearance services, or our expert window cleaning alongside help from your gutter cleaners Walthamstow E17!
Schedule Gutter Cleaning Walthamstow E17 Now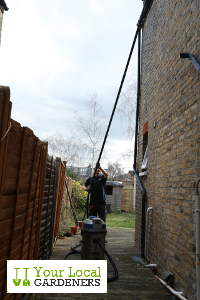 Give us a call now – on 020 3746 1898. It's just one of many ways to get in touch with us to start arranging your appointment for gutter cleaning Walthamstow E17… You can also use our online chat support feature, or our web booking form to request a service!
When you reach us through any of these methods, we'll be happy to provide you with a free, no-obligation quote on the services of your loyal gutter cleaners Walthamstow E17, to answer any questions that you might have, or to make your appointment right away. Both our phone lines and our chat support are manned by live advisers around the clock!